Unsure what to bring and how to dress for your trip to Swedish Lapland? Here, you can find a general list of equipment and material to bring with you during winter, autumn or summer.
For the specifics of the different tours, please refer to the technical document, which you can find under the "price and reservation" section in each tour page.
FOR OUR WINTER TOURS
During winter, temperatures can vary between 0C and -30, even colder. Extreme cold equipment can be very pricy and is so specific that you might never use them again. Therefore, we happily provide you with some gear for the duration of your tour.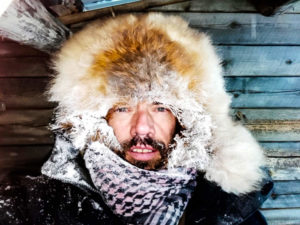 List of the recommended equipment
extreme cold boots
warm Body suits or expedition jackets ;
chapkas ;
mittens ;
hoods ;
A sleeping bag made for low temperatures;
A fleece liner ;
A head lamp ;
An 80 L waterproof bag.
If you have some mountain/winter clothes, we recommended you bring them along because they might be adapted to the weather conditions at the time.
Daily change of clothes
Your camera with charger;
A mobile phone (with the number you have provided us) and its charger portable
A portable power bank (no electricity for 4 days during the Dog Sledding Trek Adventure)
Your swim suit for the sauna ;
2 Towels (one for the sauna and one for the shower) ;
Your travelling documents
A mean of payment (credit card, euros or SEK) ;
A toiletry bag ;
Your bigest smile ;
A good mood ;
Our guests often come with products from their region to share among the group. So if you feel like it, don't hesitate!
This list is not comprehensive and should only be a guide to help you decide what to bring. If you still have questions regarding how to dress or what to bring for your trip to Lapland, don't hesitate to contact us.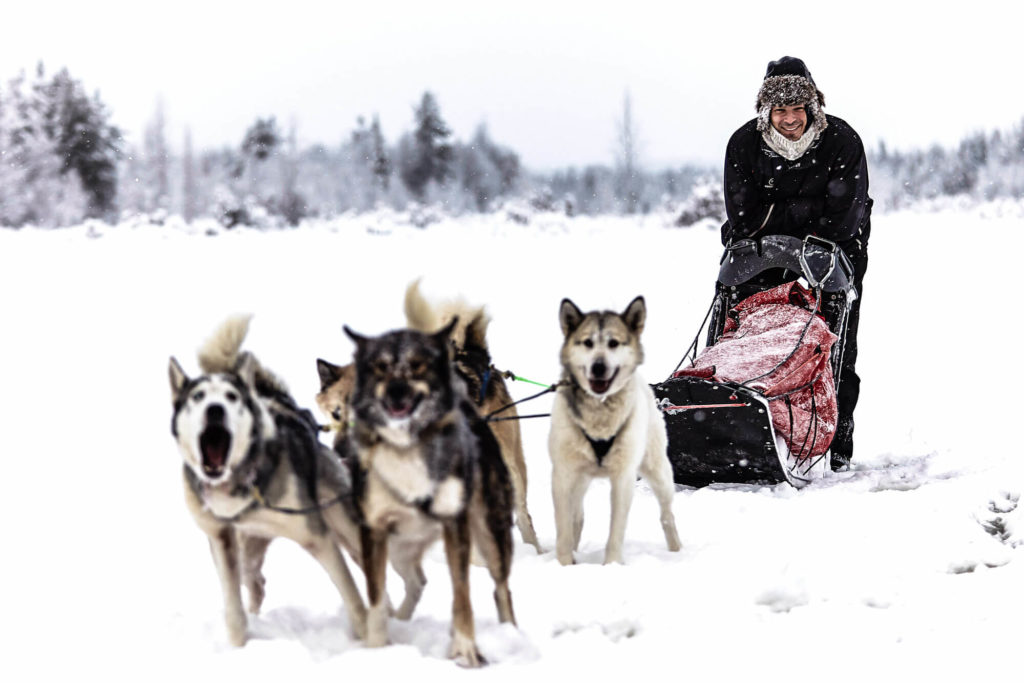 Just like for all winter activities, dog sledding requires an appropriate outfit. We recommend going for 3 layers :
A first fine layer, quite fitted/close to the body, in a breathing fabric that won't retain perspiration (avoid cotton tee-shirts which act quite literally as sponges). We recommend wool, merino or thermal underwear ;
A second layer composed of a thin fleece ;
A third layer could be a thicker fleece.
Everything can be cover by a Gore-Tex jacket or any other waterproof/windproof fabric. For the lower body, thermal underwear and a pair of skiing pants (breathable and waterproof) are ideal.
Keeping our feet warm during our activities is very important. We recommend wearing snow boots (such as Sorel or Kamik). These boots are particularly well adapted. They are composed of a leather shaft and a rubber vamp. Good quality winter boots have removable inner-boots for fast drying. Avoid shoes such as "moon boots", which as their name suggests, are made to walk on the moon, not on snow…They can be fine to keep your feet warm in the evenings (inside the cabins), but are not suited to any activities!
If you don't have suitable boots, we can provide you with a pair. We would need your shoe size when you sign up for your trip. You can also bring a pair of lighter boots or hiking boots for the evenings. Don't forget good thick pairs of socks and enough change of clothes.
If you are used to sleeping with socks on, they should never be the same as the ones you wore during the day.
In order to keep your our hands warm, everyone will tell you to wear thin gloves that allow to precise manipulation, and good pair of waterproof/windproof mittens.
We have a mixed opinion of this combinaision since when you manuipulate the dogs, or anything in snow related, your gloves will be wet, so imprionning this humidity within your mittens is not a great idea. A good think pair of mittens, without any gloves underneath is often better.
70% of the energy loss happens from the head. It is therefore very important to protect it. The best is a beany, a hood or a good chapka that covers the ears.
Never go winter skiing without a good pair of sunglasses. Choose good quality sunglasses over fashionable ones.
A skiing mask is also suitable for dog sledding.
FOR OUR SUMMER AND AUTUMN TOURS
During summer…
This post is also available in:

Français