Or my way of thinking…
I must have been 13 or 14 years old when my older brother, bored of seeing me read avidly comic books, bought me a collection of Jack London's novels. He could not have guessed that on this day, not only did he give me a taste for reading, but he also passed on another virus: the passion for dogs and the Great North. A few years later, Duck and Caly came into my life. I was 22 and it is then that everything came into life. I became a musher.
Since 1991, my dogs are my life. They have always had priority on everything else, my hobbies, my friends, my family and my unusual life.
My pack lives at the base camp, with me. It is composed of 97 sled dogs. 97 can seem enormous but it is not. For the dog sledding treks, we need 2 times 34 working dogs as well as some extras in case some are sick, injured or just not feeling well.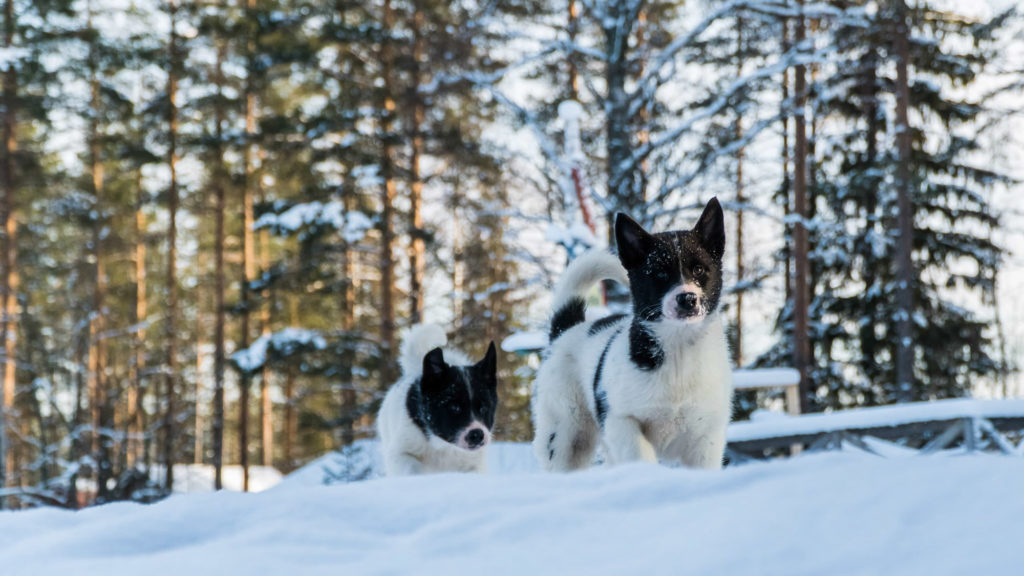 Then we have puppies who are still too young to work, and about 15 retired dogs. These dogs made it possible for me to make a living during a few years, so the least I can do is to give them a comfortable "pension". Finally, we have some house dogs, who stay with me in the house.
I consider my dogs as athletes. They have a healthy, rich and balanced diet. They follow strict and organised trainings in order to enable you to fully enjoy the activities we offer. Some of them a real working bests, other are more moderate. Some of them a real "lazy asses" who need motivation! In short, they are living, breathing, sentient beings who walk, run, stop to relieve themselves, can feel tired and sometimes down. We talk about "work" because they are professionals, they know their job and what should be done, and they would do it perfectly as long as you do yours properly.
Almost all our guests in Swedish Lapland are unexperienced. My job is to teach you how to drive a sled, to give you all the codes that would allow you to understand my dogs and to make that you become a close team with your dogs.
Our dog sledding treks can be easy rides in the woods, but when Mother Nature decides, they can quickly become very challenging: a big snow fall can make the trail disappear in a few hours. I then have to put my snowshoes on and open the trail for the dogs. Your job would be to help the dogs as much as possible. It is important to know that in the Great North, temperatures can vary greatly from one day to the other: it can be -5 one night and -40C the next morning.
It is for this reason that we came up with the multi adventure tour, which is less challenging and more easily adaptable to the weather conditions than the dog sledding trek adventure. Don't book the wrong tour!!
If you are just coming to Swedish Lapland to tick the box "dog sledding" on your travel/experience list, you have come to the wrong place. If you would like to learn and share a bit of ours and our dogs' daily life in the arctic winter, and are ready to step out of your comfort zone, then you will probably live a great adventure with us. Adventure cannot be consumed; it needs to be lived fully!
Fabien
Why choosing Flarken?
Far from the touristic destinations
Experience a Swedish Lapland still authentic
Push yourself to live a true adventure
Make new four legged friends
Flarken Adventure's Team
To offer this adventure in Swedish Lapland, I am surrounded by a small team of permanent and seasonal staff. My permanent team is composed of a musher with experience in Switzerland, Norway and France and a dog lover who manages of the kennel. Seasonal staff are usually young people who, wanting to take a break from their daily life, come to live a unique experience with the dogs in Lapland.
Flarken Adventure's Team will gladly do all they can to make your stay unforgettable, but they are here to help you, not serve you.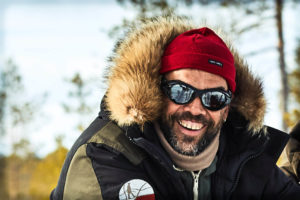 FABIEN
Owner – Musher – Dog Sledding Adventure Trek Guide
Fabien started mushing as a hobby. It is in 1999 that he left his native region in France and moved to the mountains where he created a dog sledding school. In addition, he started a company manufacturing sleds and managed the diploma of professional mushers in France.
A desire to come back to the roots let him one step further: He moved to Swedish Lapland and created Flarken Adventure.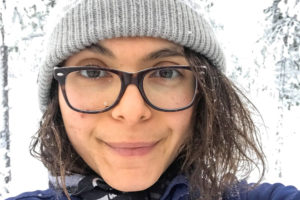 LAURA
Manages the kennel and the logistics
Originally from New Caledonia, Laura has always had a taste for travels and adventure. After 6 years in Australia where she studied Journalism, Psychology and Anthropology, she embarked on a journey to discover the world. She spent a year in South America, and then sailed the oceans onboard cruise ships for 4 years. Her passion for dogs and nature led her to the universe of sled dogs and to Lapland. She joined Flarken Adventure's Team in January 2019.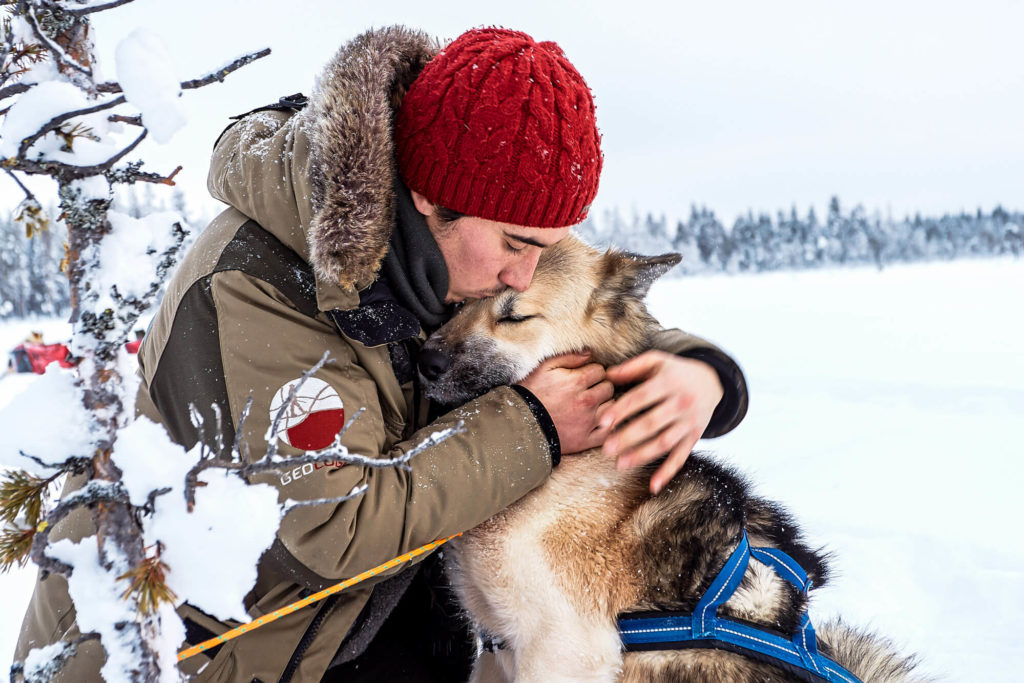 Every season, we welcome volunteers, trainees looking for work experience, people from completely different background wishing to learn how to manage a pack of dogs, to be introduced to dog sledding, and to live an enriching experience in a family structure…
Don't hesitate to contact us!
This post is also available in:

Français